Engineering


Swing Corporation has demonstrated its ability as a comprehensive water solution company in domestic and international arenas. By always offering the latest technologies, we have played a pioneering role in the water solution industry. In future, we will make positive efforts in developing new environmental preservation systems (PFI, outsourcing etc.) to meet innovative needs in our age based on the hardware-related techniques as well as process know-how and operation and maintenance techniques on water treatment and heat recovery obtained through our long history.
Swing Corporation's approaches to overseas projects
Safe water for everyone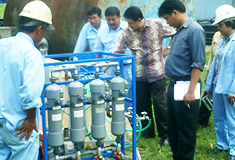 We are making our best efforts day and night so that we can supply safe and clean water to the people in the world through our abundant experience and with the latest technologies.
Water Treatment Plant
Packaged Water Purification Facilities
Industrial Water Treatment Facilities
Pump Facilities
For Hygienic Surroundings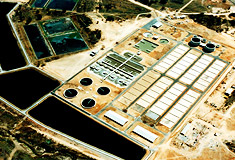 Water pollution by community wastewater and industrial wastewater has become a serious issue globally. We are contributing to the global water environment with positive use of our wastewater treatment technologies.
Sewage Treatment Plant
Sludge Treatment Facilities
Night-Soil Treatment Facilities
Wastewater Treatment Plant
Transfer the Japanese technology to the world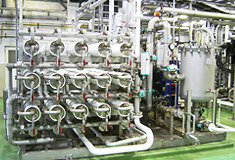 Our latest technologies in water treatment have made the impossible possible. We will develop these excellent technologies in global markets.
Water Recycle Facility
Biomass Utilization Equipment
Resources Recycling Facilities/Industrial Waste Volume Reduction Facilities
Demineralizers/Ultra Pure Water Facilities
Operation Process for Overseas Engineering
To address customers' needs in terms of quality, delivery and costs, we visit sites with customers to carry out streamlined work including the following also in overseas markets with different cultures: site surveys, market analysis, proposals (feasibility studies), management of local staff during facility construction and after-sales services.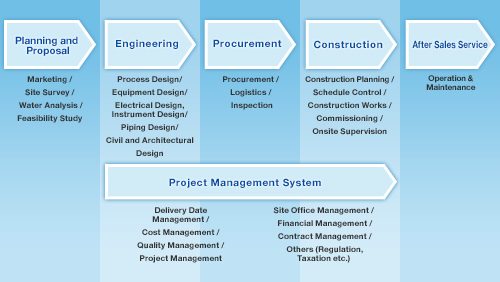 Planning and Proposal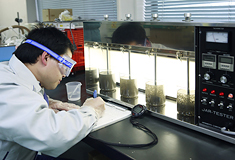 To accurately understand customers' needs, we will make a thorough review of the projects in terms of energy saving features, cost reduction features and maintainability based on our excellent technologies and abundant experience.
Further, by sampling specimens and carrying out treatment tests in our Process Technology Laboratory in Kanagawa (Fujisawa), we can propose customized plans for each customer by reflecting the actual status of their each site.
Engineering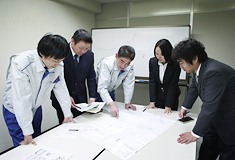 Our experienced project manager supervises, carries out and manages each process of the design so that it maximizes the performance of the plant.
Based on extensive experience in consigned operation management, proposing designs that consider operability and maintainability are our strengths.
Procurement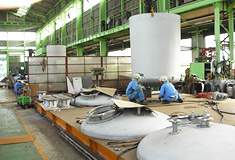 We has been the leading player in the water treatment industry for more than 80 years. Meanwhile, we have established networks with domestic and international vendors, which makes it possible for us to procure everything that is necessary for water treatment. In trading with vendors, we focus on procuring safe and reliable materials instead of just focusing on cost efficiency.
Construction / Commissioning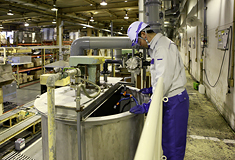 Because we have a rich pool of qualified experts, we can organize a team that maximizes the performance in response to customers' needs. High-quality processes from starting up a plant to stably operating it are achieved safely and in short delivery period.
Our Products on Engineering Business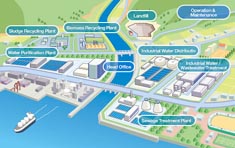 Our engineering business supports your life in the local community on a daily basis.
Experiences in Overseas
Swing Corporation develops its business as a comprehensive water solution company in domestic and international markets, having delivered its products and services to approximately 500 projects in about 50 countries (as of 2010) including large and small products.
*We have delivered our products and services to the color-shaded countries.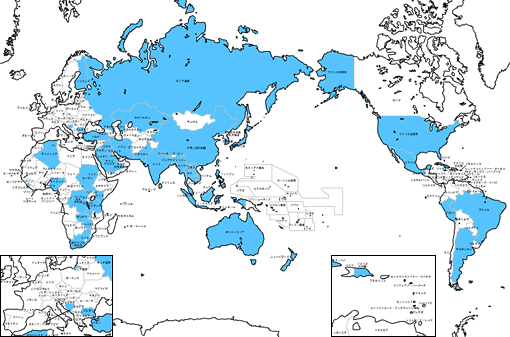 Main Projects in Overseas
| | |
| --- | --- |
| China | Sewage Treatment Plant : 260,000m3/day, Completed in 1996 |
| Vietnam | Sewage Treatment Plant : 141,000m3/day, Completed in 2009 |
| Malaysia | Sewage Treatment Plant : 59,000m3/day, Completed in 2008 |
| Indonesia | Industrial Wastewater Treatment Plant : 30,000m3/day, Completed in 1998 |
| Philippines | Industrial Wastewater Treatment Plant : 6,000m3/day. Completed in 1999 |
| Sri Lanka | Submerged Membrane Water Purification Plant : 5,000m3/day, Completed in 2009 |
| Singapore | Sewage Treatment Plant : 75,000m3/day, Completed in 1999 |
| East Timor | Packaged Water Treatment Plant : 5,200m3/day, Completed in 2006 |
| Zimbabwe | Sewage Treatment Plant : 20,000m3/day, Completed in 2001 |
| Others | Demineralizer for Power Plant, Sludge Dehydrator, etc. |
Inquiries about Engineering
For further information about our website, please contact as follows.
E-mail: webmaster@swing-w.com

Page Top
Local Navigation Start