Sep.12.2018
IWA World Water Congress & Exhibition 2018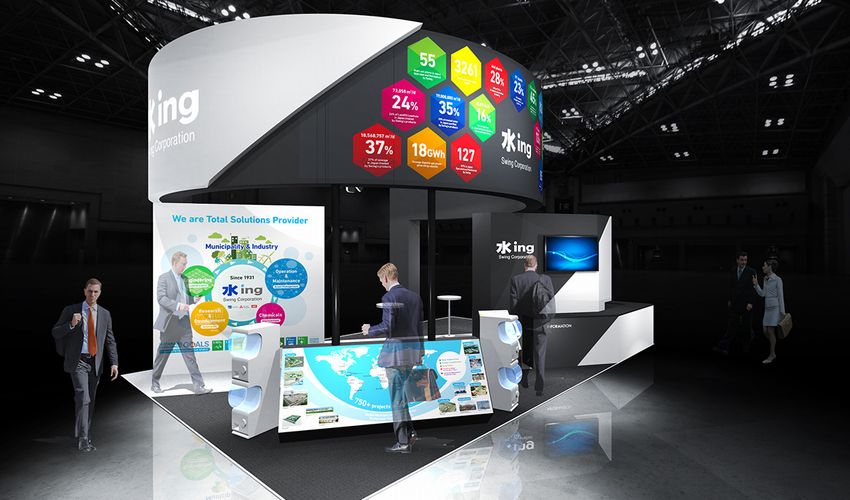 Swing Corporation is participating as Platinum Sponsor in the International Water Association (IWA) World Water Congress & Exhibition which will be held in September 2018 in Japan for the first time.

Water, environment and related professionals from more than 100 countries will gather to share water related issues and latest information about technological innovation and leading practices.

Swing will introduce our latest solutions in technical sessions, poster presentations and business forums and also at the Exhibition Booth No. 136.

Please refer to our Special Web Site for details of our presentations and exhibition.
| | |
| --- | --- |
| Event Name | IWA World Water Congress & Exhibition 2018 |
| Duration | September 16-21, 2018 |
| Place | Tokyo Big Sight |
| Conference Location | Conference Tower |
| Exhibition Location | West Hall 1 |
| Exhibition Duration | September 17-20, 2018 09:00-18:00 (last day until 15:00) |
Programme of Business Forum/Presentations
Japan Business Forum
Session 2
15:45 – 17:15, Wednesday, 19 September 2018
Water Management in Megacity - Panel discussion -
Panelist: Masao AYUKAWA
Conference Tower 7F
Room 13 - International Conference Room
Swing Business Forum
11:15 - 12:00, Monday 17th September 2018
Swing's sustainable solution for waste water disposal
Presented by: Ryo KANDA, Koji NAGATO, Nanami YOSHIHARA
Exhibition Room 1
12:15 - 13:00, Tuesday 18th September 2018
Swing's sustainable solution for maintaining water environment
Presented by: Tomoki TATENO, Shuto KANEKO, Sumiyo SATO
Exhibition Room 1
11:15 - 12:00, Wednesday 19th September 2018
Swing's sustainable solution for energy reduction
Presented by: Tomohiro IIKURA, Mitsuru SHIMA, Natsuko NAKAYAMA
Exhibition Room 2
Oral presentation
11:15 - 11:30, Tuesday 18th September 2018
DEMONSTRATED OPERATION OF PROCESS FOR RECOVERY OF PHOSPHORUS FROM DIGESTED SEWAGE SLUDGE
Presented by: Takao HAGINO
Conference Tower 6F
Room 608
11:00 - 11:15, Wednesday 19th September 2018
THE START-UP OF AN ENDLESS STREAM ANAEROBIC DIGESTER TO TREAT PALM OIL MILL EFFLUENT
Presented by: Kazumasa KAMACHI
Conference Tower 6F
Room 609
16:15 - 16-30, Wednesday 19th September 2018
EVALUATION OF PRE-TREATMENT PROCESSES FOR SWRO BY THE REMOVAL OF ORGANIC SUBSTANCES
Presented by: Dr. Kazuaki SHIMAMURA
Conference Tower 6F
Room 607
Poster presentation
12:10 - 12:15, Monday 17th September 2018
Novel Fouling Index Using Hydrophobic MF: Methodology And Explanation Of Its Measurement Principle By Solid-phase FEEM
Presented by: Masuhiro HAYASHI
Conference Tower 6F
Room 607
12:30 - 12:35, Tuesday 18th September 2018
A Novel Nitrogen Removal System By Combined ANAMMOX With Denitrification For High Ammonia Wastewater Treatment
Presented by: Dr. Yongsheng GE
Conference Tower 6F
Room 609
13:10 - 13:15, Tuesday 18th September 2018
Production Of Sodium Hypochlorite During Landfill Leachate Treatment And Reuse As Disinfectant For Sewerage Treatment
Presented by: Ami ZAIZEN
Conference Tower 6F
Room 604
12:00 - 12:05, Wednesday 19th September 2018
Microbial Population On Two Types Of Carrier In Anaerobic Fluidized Bed Reactor Under Several Operational Conditions
Presented by: Junta TAKAHASHI
Conference Tower 6F
Room 608
12:30 - 12:35, Wednesday 19th September 2018
Comparison In Molecular Weight Fraction Removal Characteristics Of Dissolved Organic Matter In Water Treatment
Presented by: Kiwamu NISHIMURA
Conference Tower 6F
Room 607
13:00 - 13:05, Thursday 20th September 2018
Dewaterability Improvement For Anaerobically Digested Sludge By Aeration Under Iron Compounds Present
Presented by: Katsuhiro OHNO
Conference Tower 1F
Reception Hall B